ONE OF THE 25 WONDERS OF THE WORLD
The Blue Lagoon
Recognized as one of the wonders of the world is certainly not to be missed while visiting Iceland. It is situated only a 45-minute drive from Reykjavik, on the road towards Keflavik international airport. Many visitors choose to soak up the scenic beauty and enjoy breathing the clean fresh air while relaxing in the warm geothermal seawater – immediately upon their arrival in the country or on their way to the airport for departure. Others choose to go and relax there after a day of outdoor activities, be it a visit to Inside the Volcano, Into the Glacier or some other of the great variety of activities we offer, or simply to go there at the end of a day of leisure or sightseeing. Then of course there are those that go not once, but twice or even every day of their visit! Read more
The Blue Lagoon is based upon an amazing gift of nature, namely  Iceland´s source of geothermal seawater. It was formed already in 1976 during the early operation of the nearby geothermal power plant and in the years that followed people began bathing in the unique water and applying the silica mud to their skin. Those with psoriasis noticed an incredible improvement in their condition.
The water's temperature is 37-39°C / 98-102°F. The lagoon holds six million liters of geothermal seawater, which is renewed every 40 hours. Regular sampling shows that "common" bacteria do not thrive in this ecosystem, thus additional cleansers such as chlorine are not needed. The seawater originates 2000 meters/6562 ft beneath the ground where it is heated by the earth's natural forces. At this depth the temperature is 240°C/464°F and the pressure is 36 times the pressure on the earth's surface. The geothermal seawater comes into contact with magmatic intrusions and captures the earth's minerals, resulting in this unique natural source known for its healing power.
From the beginning, research & development has been one of the driving forces of the operation of the lagoon. The R&D team works with some of the world's most distinguished scientists, creating a strong, professional network and building knowledge in bio-technology, dermatology and marine cosmetology.
OPENING HOURS
o1. Jan – 21. Jan     10:00 – 20:00
22. Jan – 31. May     08:00 – 20:00
01. Jun – 31. Aug     08:00 – 22:00
01. Sept – 31. Dec     10:00 – 20:00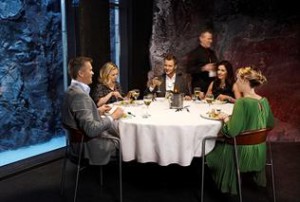 The LAVA Restaurant at the Blue Lagoon offers a unique dining experience. It is built into the cliff so it features a natural lava wall and the view overlooks the lagoon, adding to its uniqueness – it´s the perfect choice for lunch or dinner. For
The LAVA Restaurant at the Blue Lagoon offers a unique dining experience. It is built into the cliff so it features a natural lava wall and the view overlooks the lagoon, adding to its uniqueness – it´s the perfect choice for lunch or dinner. For MICE these unique surroundings make for a grand venue and an event to remember